The Plymouth Sundance / Duster, Dodge Shadow, and CSX
In 1985, Chrysler unveiled the 1987 P-bodies, designed to replace the aging but honored
Plymouth Reliant and Dodge Aries
.
The new Plymouth Sundance and Dodge Shadow were heavier and more expensive, but had more standard features, a "big-car" ride, and a "hidden hatchback" for better storage. The name Sundance had been used on the final, 1974 Plymouth Satellite, as a trim level; Shadow was new to Chrysler.
The Shadow and Sundance were only .1 inches shorter in wheelbase than the
original K cars
, but were styled to look larger.
When it was first announced, Chrysler said the P-body would have a
1.8 liter derivative of the popular 2.2. This never happened, possibly
because Iaccoca balked at the development costs for a new engine,
and possibly because the heavy car would have been too sluggish with the
smaller powerplant.
The Plymouth Sundance / Dodge Shadow appeared in the fall of 1986 as 1987 models, and looked remarkably similar to the upscale
Chrysler LeBaron GTS / Dodge Lancer (H-bodies)
. The body was, indeed (according to Dan Minick), based on these cars, shortened somewhat, and using some Dodge Daytona body stampings and parts. They were built at
Sterling Heights
, along with the Lancer and LeBaron GTS.
The "hidden hatchback" design meant that the trunk lid moved up with the rear
window glass to reveal a large storage space. There was room for a
full-sized spare, or a mini-spare with room for tools. They had high
ground clearance and traditional, straight
front seats, unlike many cars in the class.
Originally, the P-bodies were to have an optional 16 valve 2.5 liter engine, with Lotus heads. Lotus Engineering's Michael Royce wrote:
The unusual combination of a long stroke (104 mm) with the 16 valve head fixed the 2.5L's breathing problems, and gave a nice smooth engine that would rev easily up to about 7500 rpm. It gave about the
same performance in a vehicle as a Turbo I. The last example I know of was
in a P-Body with a manual trans with the emissions people out at the Chelsea
Proving Grounds, about 15 years ago.
A March 1996
Industry Week
article reported that the P cars cost $600 million to develop (just $300
million less than the completely new "cloud cars" of 1996), and were designed to be
"upscale subcompacts" competing with the Cavalier, Escort, Accord,
and
Corolla SR-5
. The target market was first-time and female buyers,
and the similarity to the LeBaron GTS and Lancer was deliberate.
Though overshadowed in their early years by the cheap Omni/Horizon and Reliant/Aries, the Sundance and Shadow were a qualified success; sales came near 200,000 units per year. While Chrysler lost money on each Sundance and
Shadow, Ford also lost money on the Escort, and GM on the
Cavalier; they sold entry-level cars to gain gas mileage credits and to
capture younger buyers.
Chrysler did not succeed in creating much "buzz" around the cars, despite the fast CSX and other turbocharged cars. Not investing in a fastback or
true coupe may have hurt; the Duster was simply an option and trim package, and stripped of the paint and decals, was identical to the standard car. To the press, the Sundance and Shadow were "just another old K-car" and the CSX was generally ignored by most mainstream media.
1988 press materials
Chrysler wrote: "The Sundance 2-door and 4-door liftback are fun to drive because of their high level of standard equipment, their versatility and precision handling. ... they offer purchase economy, value, reliability, fun-to-drive appeal and style in a complete package. They are truly cars anyone can be proud to own.
"The Sundance 2-door provides a liftback rear opening and split fold-down rear seat. It's very much a personalized car-while the 4-door represents a large measure of function and versatility for families with young children. The Sundance RS Package, available on both models, adds still more excitement with a 2.5-liter EFI engine, two-tone paint, luggage rack and a performance interior."
In 1988, standard features included:
Gas-charged, dual path front Iso-Struts and rear
shock absorbers and front and rear
antisway bars
Power rack-and-pinion steering, power brakes with vented front
discs and self-adjusting rear drums
Dual outside remote control mirrors
Stainless steel exhaust system
Color-keyed front and rear bumpers
with soft fascia, integral rub strips
and bright accents
Childproof rear door locks
Mini-console with front and rear storage bins (with optional full length center console)
Speedometer, tachometer (later made optional), odometer and trip odometer, voltage, gas level, and coolant temparature
Remote liftback release.

Changes: 1988 to 1990
For 1988, the turbocharged version of the Sundance/Shadow used an equal length drive shaft system; the unequal length system used on standard cars had a short, solid drive interconnecting shaft on the left side with a longer tubular drive shaft on the right. The equal length system cut torque steer.
Sundance 50/50 seats and bucket seats were redesigned so that the recliner mechanism took less effort and the handle was sturdier and easier to grasp than in 1987 models. The seat side shields provided more hand clearance. A new, larger fan and scroll delivered more air flow, with better reach into the rear (in vent mode).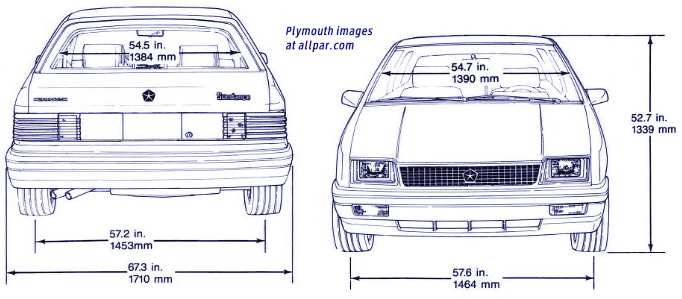 1989 saw numerous refreshments; for that year, half of Sundance buyers were under 35; more than half were women. The top two reasons given for buying the car were durability and quality.
The 2.2 liter Turbo I (non-intercooled) engine was replaced by the 2.5 liter version of the same engine; it provided better low-end torque. This was also the first year for a universal block casting on all 2.2 and 2.5 liter engines, and numerous durability changes for the four cylinders. All engines were quieted down using "Phase II Quiet Idle," including an acoustic cylinder-head cover (already used on turbos by then), a change to the tooth style on cam belts (deep rounded teeth), plugs for the timing indicator and probe in 2.5 Turbo I and manual-transmission cars, and a transmission dust cover-to-engine oil pan foam seal on 2.5 Turbo I and manual-transmission cars. Idle quality was improved by cutting valve overlap by 30% (this had already been used on 2.2 Turbo I and II engines in 1988).
The Dodge Shadow got a new cross-hair grille and aero-style headlamps; Sundance had similar changes but with a chromed Plymouth grille. The headlamps had sealed plastic lenses with replaceable halogen bulbs. The hood was modified to match the new opening. Single-piece tail-lamp housings changed the rear appearance. There were also new side and lift-gate paint stripes (in a choice of five colors), and a 14" premium wheel cover on Sundance.
Inside, the rear knee room was increased by 0.8" by changing the front seat structure (the cushioning was unchanged), while entry room into the back was increased by using a thinner pad on the back wing. Rear-seat three-way seat belts secured two of the three rear passengers. The bezels of the optional full-length console were color coded to the interior, a six-way power seat was optional, and illuminated sun visors (for driver and passenger) replaced their simple predecessors; on the driver's side, the visor included a map/sunglass holder. Shadow ES and Sundance RS got new leather-wrapped steering wheels with red accent stripes on the spokes.
For all cars, a new AM/FM stereo with stereo AM became standard. Shadow ES gained a new higher-performance suspension, with stiffer springs, retuned struts and shocks, and new urethane front jounce bumpers; the new suspension had a bellows-type upper strut shield to prevent dirt from reachign the strut rod. The package included newly resized speed-rated P195/60HR15 tires; new 15x6 wheels were included.
Regular cars had optional 14x5.5 cast aluminum wheels.
In 1990, the P-bodies were given new computer-controlled instrument panels, dropping the cable-driven speedometer. The gauge cluster and steering wheels were both redesigned, a new interior color was added, and the Infinity I stereo became optional. Cruise control was moved to the steering wheel, and corrosion protection was improved. There was a new five-speed manual transmission, and the bumpers were upgraded to provide 5 mph impact protection.
1991: the America series appears and suspensions are upgraded
In 1991, following the success of the Omni/Horizon America models, Chrysler brought out the Sundance America and Shadow America. These were nicely featured versions of the vehicles with lower prices - they were the lowest priced cars on the market with driver's-side airbags, and retailed for under $8,000 - for a full dollar under $8,000, unless you added in the destination charge, or $163 for the common rear-window defroster option. Still, at $8,627, it was hard to beat the Sundance/Shadow America, with their big 2.2 liter engine - providing much more torque than anything else in its class - along with a nice cloth interior with bucket seats, driver airbag, prop-rod-free hood, power brakes (discs up front, drums in back), fourteen-inch wheels, fold-down rear seatback, hidden-hatchback storage, and other niceties.
The other models were the un-named base and Sundance RS (Rally Sport), or Dodge Shadow and Shadow ES. The Sundance America (and Shadow America) featured power front disc / rear drum brakes, a five-speed manual transmission and 2.2 liter overhead-cam four-cylinder engine, power rack and pinion steering, extensive corrosion protection, front and rear storage bins, side-window de-misters, remote driver's-side mirror, color-keyed dashboard, lighted ignition switch, reclining seats with adjustable head restraints, and folding rear seats. Options included the three-speed automatic transmission, air conditioning, tinted glass (standard with air), clock, AM/FM stereo (with or without cassette), two or four speakers, lighting package, dual remote-control mirrors, body mouldings, conventional spare, and rear defroster.
The standard Sundance/Shadow added cloth-covered door trim panels with armrests and integral door handles, black bodyside mouldings, and 14 inch wheels with covers. Optional on that trim level were the 2.5 liter engine, a center console, tachomerter, inside remote liftgate release, intermittent wipers, and bright accent bodyside mouldings.
The Sundance RS came with the 2.5 liter engine, in standard or turbocharged trim, the latter cutting quarter-mile times to around 16 seconds and making 0-60 around 8 seconds; the RS came with two-tone paint, leather-covered steering wheel, fog lights, color-keyed fascia, dual horns, remote liftgate release, better seats, AM/FM stereo cassette with four speakers, and variable intermittent wipers. Options included the liftgate-mounted luggage rack, message center, air, tinted glass, tilt wheel, Infinity audio system, power locks, seat, and windows, cruise, and dual remote power mirrors.
The 7/70 warranty was in effect for powertrain components. Research from 1990 showed that more than half of those who test drove the Sundance actually bought it; durability was listed as the top reason, and 76% of customers who cross-shopped it preferred it to the Honda Civic.
Minor 1991 changes were new molded-in-color front and rear fascias with a "slight texture" (except for Shadow ES/Sundance RS); a new instrument cluster for low-end cars with an 85 mph speedometer, large fuel gauge, and blank center; and new graphics and feel for the climate control. Front bucket seats were new, with a lower back and head restraint for better forward visibility from the rear seat. A new manual front seat mechanism was used for fore/aft adjustments. High-end cars had a split rear seat (except the convertible). A new disc brake system was made standard, and low trim levels could only get the 2.2 engine (the convertible had a standard 2.5 and optional 2.5 Turbo I with slightly higher torque than in 1990). The shift cable attachment and shift knob were changed with manual transmissions.
1991 suspension revisions
In 1991, the company:
Raised the roll center by 3 inches, reducing body roll
Increased caster by 3° to improve steering feel and increase the lateral force provided by the outside tire when cornering
Changing steering geometry to reduce toe change during suspension movement, improving steering response and high-speed stability
Allowing the inside wheel to turn more sharply than the outside wheel during cornering
Using tighter power steering valving to increase responses to small movements
Changing the steering intermediate shaft and coupling to eliminate torsional flexing
Moving the steering ratios from 14:1 to 16:1
These changes involved changing the strut towers, front suspension cross-member, lower control arms, struts, steering knuckles, and the sway bar. The hub unit and half-shaft boots were also changed for better longevity.
1992 notes
"JTE" wrote, "Chrysler had contracted with MMC to buy a certain number of 3.0 engines. With the 3.3 coming, they scrambled to fit the 3.0 in the P body to use the engines they had arranged to buy."
New for 1992 were body-color front and rear bumpers on the Highline model, new wheel covers, three new colors outside and crimson inside, the replacement of the turbo vehicles with the Mitsubishi V6, and an optional four-speed automatic to go with the optional three-speed automatic.
In 1992, the Sundance came with the 2.2 liter and 2.5 liter throttle-body injected four-cylinders, producing 93 and 100 horsepower at 4,800 rpm, respectively, or the Mitsubishi 3.0 V6. Four-cylinder torque was far better than with competitive cars, at 121 lb-ft at 3,200 rpm on the 2.2 and 135 lb-ft at 2,800 rpm on the 2.5.
Gas mileage with the five-speed stick-shift was 26 city, 32 highway according to the EPA, limited by weight (2,644 lb for the four-door America model), aerodynamics, and the single fuel injector; but it was a leap ahead for the Sundance, which had been rated at 23 city, 30 highway in 1991.
The V6 was good for 141 hp and 171 lb-ft of torque, making it less powerful than the turbocharged four it replaced, as well as less fuel-efficient; but many customers preferred the V6 for its lack of "turbo lag" and use of regular gas. The V6 went from 14" to 15" wheels, had a stiffer ride and beefier
sway bars, and used comfort-oriented Eagle GA tires rather than the base Goodyear Invictas.
There were three lines now: America, Highline/ES, and Duster/SE. The America was more standardized, with the 2.2 engine only. Highline buyers could opt for the 2.5 engine, and gained dual vanity mirrors, an FM stereo, and other upgrades. Most buyers opted for the customer value package, adding air conditioning, tinted glass, rear defroster, trunk and hood lights, remote liftgate release, four speaker stereo, tachometer, tilt wheel, and intermittent wipers. All cars had a driver's side airbag and front disc brakes.
The Duster and Shadow SE included the V6 and all Highline options, along with higher grade trim; buyers could go down to a 2.5 engine as a "delete option," dropping the price by $600.
The Sundance was priced lower than the Civic and Corolla at this time, having taken the place of the Reliant.
1993 notes
The new Neon started production in December 1993, but Chrysler still updated the Sundance and Shadow. The America model was dropped, and a body-colored pentastar was added to the hood of the Shadow; a new beige was added to the interior, and the base model was given an option package to replace the midline (including color-keyed instrument panel bezels). Duster and Shadow ES had seat and door trim fabric upgrades and got attractive faux-wood bezels.
ABS were now optional on all models, and a high performance torque converter was available on four-cylinders with automatics. The stereo was given an optional upgrade with graphic equalizers and a choice of cassette or CD player. The 2.2 and 2.5 liter intake manifolds were redesigned for better idling and gas mileage, the V6 idle speed was cut back for gas mileage, the timing belt cover was redesigned on four-cylinders to cut back oil leaks, the final drive gearing on three-speed automatics was quieted down, and new colors were added. Intermittent wipers were now standard. (The changes to the four cylinder engines were also applied to the
Spirit and Acclaim
, which lasted one year past the Sundance and Shadow.)
Dodge Shadow and Plymouth Sundance observations
In later years, there were two interior colors: light
grey and a light beige. The dashboard trim was light gray, black (in
base models until 1993, and standard on even the RS until fairly late),
or a "wood grain" plastic on 1992-1994 Dusters and Shadow
ES.
The five-speed transmission, chosen by fewer than 10% of buyers (in some years, by 2%), didn't have a smooth
clutch, though it improved over the years; shifting became easier, particularly going into reverse. Turbo versions had a better-quality Getrag
transmission. Earlier models used the European pattern of having
reverse to the left of first, with a pull-ring that had to be used to
get into reverse; in 1990, the "three-plane" shifter (with reverse
below 5th gear) was used, improving shift quality. Earlier
clutches were stiff, but durable. Getting into reverse
could be eased by going into first before going to reverse, since first
gear was synchronized.

The Sundance and Shadow were throwbacks in some ways, with their upright
driving position and slant-six-influenced 2.2/2.5 engines; the performance version of the Plymouth was even named "Duster" in later years.
Consumers' Guide
rated the Sundance/Shadow as a best buy due to its price/performance ratio.
That other consumer reporting magazine
did
not like it, mainly for arbitrary reasons, such as the foot-operated
emergency brake (by the time of their 1991 review, only 2% of buyers ordered the manual transmission) and claims that the doors and hidden hatchback could hit drivers who leaned over in just the right way.
Edmunds' Used Car Book
wrote a positive review, focused on
the V-6 models. They reported a braking distance (60-0) of 160 feet and
roadholding of .80 g.
The Shadow/Sundance body was renamed from "P" to "AP" after Chrysler acquired AMC and Chrysler switched to two-character codes.
According to Dan Minick, at launch the Sundance was priced
higher
than the Dodge (traditionally, Dodges sold at a premium over Plymouth), to bring Chrysler and Plymouth closer together by raising Plymouth above Dodge. Dealers balked and pricing was matched within months.
The aerodynamics were haphazard; the 1993
Dodge Ram
had less wind resistance. Base tires tended to be cheap and poor for handling.
Shadow/Sundance engines
The
2.2 TBI
engine revs more easily, but the
2.5 TBI
provides more low-end torque; the
V-6
provided better low end torque and high end power, by a large margin, than either one. The
turbo engines
, however, had the best gas mileage and power. The 2.5 had satisfying power from idle but at higher rpms was somewhat disappointing. The air path was limited in size, and the active patch of the air filter ended being quite small. For more details, see the
engines page
.
The 2.2 turbo revved higher, with higher power when intercooled; the 2.5 had better low-end pull. The most powerful engine on the
Shadow/Sundance was the Turbo IV with variable nozzle technology, only
sold in 1990 and rare even at the time.
Dodge Shadow engines in Mexico (from Shandrei)
2.2 without turbo, with TBI, 93 hp
2.2 with turbo I, 142hp
1986 offered a 2.5L 96hp (TBI) as well the previous 2.2L engines.
1987 - 88 Engines with 2.2L Turbo II Intercooled had 174hp
1990 also offered a 2.2L Tubocharged Intercooled VNT 174hp C/S
models ( Carol Shelby Competition series) were used in 1986-88-91
and were hard to identify other than the C/S badge on the
front fenders.
Dodge Shadow convertibles
There was a Shadow convertible, which
reviews said was better-sealed than most. It sold for around $16,000, from 1991 to 1993, and had a gas-prop-assisted, bi-fold manual folding top with attached quarter windows (which folded into the body when the top was put down), a soft boot wtih Velcro and snaps, a plastic rear window, and standard power windows.
The problems of having no roof were addressed by changing the doors (to use a guide pin and socket), reinforced cowl, windshield header, and front pillars, more support behind the rear seat, in the quarter panels, doors, and spare tire well, double-boxed sill structures, stiffened sill-to-rail connections, and a reinforced steering column.
These cars were converted from standard Shadows by an outside
supplier, though a factory-built Shadow Convertible had been planned, according to Greg Haberek:
Chrysler had worked out a factory Dodge Shadow convertible. The prototype is sitting in storage in the Detroit Office Warehouse with several other prototype vehicles. It has a purpose-built flush-mount convertible
system similar to a LeBaron. It does not have that cap over where
the roof was cut off like on the modified Shadow convertibles. The convertible top was down when I saw
it, and the whole back half of the car was smooth and seamless. It was
beautiful.
Dodge had been asking for a
convertible since losing the 600 in 1986, and Chrysler-Plymouth dealers
already had the
Chrysler LeBaron
. Jason Baker reported that Shadow convertibles were made only
from the Highline and ES models. In 1991, there were 1,938 2.5 turbo
convertibles, about 71% of which had automatic transmissions. Altogether,
1991 saw 17,307 Highline and 27,031 ES ragtops.
Other topics
Also see:
The end
March 11, 1994: Chrysler's
Sterling Heights
Assembly
Plant today produced its last Dodge Shadow and Plymouth Sundance
(P-Body) compacts, after an eight-year production run. After a 19-week,
$350 million model changeover, production of the all-new compact car,
the 1995 Chrysler Cirrus, will begin in July, followed later in the
year by the Dodge Stratus.
The 1,423,068th vehicle, a two-door Dodge Shadow, features a
two-speed automatic transmission [sic] and 2.5-liter engine. The
vehicle will be delivered to Colonial Dodge in Kensington, Maryland.
The first Dodge Shadow and Plymouth Sundance was produced at
Sterling Heights Assembly Plant in May, 1986. The plant has the
capacity to produce about 270,000 units over a full model year on a
two-shift production basis.
(The Sundance and Shadow were supplanted by the Dodge and Plymouth Neon. For a direct comparison, click here.)
Dodge Shadow, Plymouth Sundance, CSX, Duster, and Other Relevant Links
Thanks to Jason Rogers for his corrections and observations.
Home
•
Engines
•
Reviews
•
Chrysler 1904-2018
•
Upcoming
•
Trucks
•
Cars
Spread the word
via <!--
Tweet
or-->
Facebook
!
We make no guarantees regarding validity or accuracy of information, predictions, or advice - .
Copyright © VerticalScope Inc. All rights reserved. Dodge, Jeep, Chrysler, Ram, and Mopar are trademarks of Fiat Chrysler Automobiles.