The Spirit Is Still Alive: American Motors Corporation 1954-1987
by Chad Quella
Through its 34-year existence, AMC created some of the most memorable, inspirational, and exciting cars the world has ever seen.
American Motors was formed in 1954 from the merger of
Hudson Motors
and
Nash-Kelvinator
. The deal was the largest corporate merger up to that point - worth $197,793,366 - but was just one phase of a planned megamerger of Hudson, Nash, Studebaker, and Packard.
The combined company would cover all segments of the market, and their size and ability to share engineering would amortize costs nicely; at least, that was the plan of Kelvinator's George Mason, whose company owned Nash. The name "American Motors" originated with Mason, who started working on the plan just after World War II (thanks, Dan Minick.)
The standard Hudson cars were an excellent design in the mid-to-upper range, but the lack of money for annual restylings had hurt sales. Racing successes sold
Hudson Hornets
, but not the bigger cars that were Hudson's main business. Hudson was, therefore, receptive to the plan to merge with Nash, which had strengths in the low-to-middle range.
The first casualties of the merger were the Jet, Hudson's slow-selling entry into the compact market, and the little Nash-Healey sports car, which had left its mark on European sports car racing but had not been a major seller. A year later, the Nash Rambler and
Metropolitan
were badged as Hudsons and sold under both marques.
Hudsons kept their in-line six cylinder L-head (flat head) engines; standard models had single carburetors, while optional "Twin-H Power" package had higher compression heads with dual carburetors. Moving up, the Nash Ambassador and Hudson Hornet models boasted the Packard 320 V-8, producing 208 hp, with Packard "Ultramatic" automatic transmissions. [
Why AMC used Packard V8 engines
]
AMC
used GM's Hydramatic transmission in the 1950s (using Packard Ultramatics in Packard V8-powered cars), Borg-Warners on some 1954 Hudsons and then from 1957 on, and finally moved to the Chrysler Torqueflite in 1972 for cars, and around 1979-80 for Jeeps - the slow adoption due to existing contracts.
1955: new Wasp and Hornet
AMC proudly introduced a new line of Hudson Wasps and Hornets in 1955, "new from stem to stern" (in reality, moved to the newer Nash platforms); but they did not reverse the companies' fortunes.
In Canada, one could buy the Nash Rambler, Hudson Rambler, Nash Canadian Statesman, and Hudson Wasp sedans, assembled in Canada, at the Nash plant on East Danforth Avenue in Toronto (Nash bought the plant from
Ford
of Canada in 1946 and started production in 1950). Hudson dropped its contract with CHATCO Steel Products, which made Hudsons on an assembly line in Tilbury, Ontario. Meanwhile, in a move that would have ramifications for AMC years later,
Kaiser Motors
made its final Manhattan models and converted its car factories to Jeep production.
1956: the Rambler returns
Rambler Canada: The Little Company that Could
, 114 pages, is available from James Mays, Box 47547, 1550 Maisonneuve West, Montreal, QC CANADA H3G 2V7, for US$25 or C$37.50 via cheque or money order made out to James Mays.
The controversial Pinin-Farina styled Nash "bathtub" body was updated with open front wheelwells; but the big news was the new Rambler, a car of the future with a name from Nash's past - indeed, from Jeffery, the company that was later renamed Nash.
The new Rambler, selling as both Hudson and Nash, had a flashy body with plenty of chrome, a wraparound windshield, reverse-slant C-pillar, and two-tone paint. The Rambler carried either Hudson or Nash badging, depending on the brand selling it, branding similar to that of the
Dodge/Plymouth Neon
.
A brand new AMC-designed 250 cid V-8 replaced the Packard V-8s [t
he story behind the engine change
] in the 114-inch wheelbase Ambassador Special and Hudson Hornet Special; the 121"-wheelbase Ambassador V8 and Hornet V8 continued with Packard V8s for 1956, but moving up to the bigger 220 horse 352 V8. Rambler four door sedans and wagons, along with the Hudson Wasp and Nash Canadian Statesman, were assembled in Canada and imported to the U.S.; American Motors Sales (Canada) Limited was formed, taking over Nash Motors of Canada Limited and Hudson Motors of Canada Limited.
Frank Swygert added:
Packards contained engines of the same size but rated at higher power. Due to a parts sharing dispute between Packard and AMC, AMC brought out its own 250 cid, four-barrel-fed, 190 hp V-8 in April, used only in the 1956 Ambassador and Hornet Special models. The Specials were built on the 114"-wheelbase Statesman and Wasp bodies with Ambassador and Hornet trim, with the 250 V-8; the lighter Specials performed as well as the larger Packard V-8 cars.
1957: Nash and Hudson become Rambler; Rebel
1957 was the last year for both the Nash and Hudson marques, which were dropped in favor of Rambler, simplifying sales and marketing. The Rebel was launched as the first American factory hot-rod. It came in silver, with silver and black upholstery, a new 255 hp 4 bbl 327 cid V-8, four speed or auto, and dual exhaust. It ran the quarter in 17.0 seconds; Mike Sealey pointed out that it was advertised as the fastest four door car in America from 0-60 mph. Only 1,500 silver Rebels were built; in addition to the silver paint, these Rebels had anodized gold trim.
Bill Watson noted that the Rambler Six and Rambler Rebel V8 were assembled in Canada until July 1957, when the Toronto plant closed; all Ramblers were then imported until December 1960, when a new plant in Brampton opened. Frank Swygert noted that the 327 was a larger version of the 250 and 287; they used the same block, crank, and rods as the 250 (the crank and rods were forged and expensive to change). The 250 was used in the Rambler V-8. Bob Goyette added: "The 250 was a 3.5 inch bore, the 287 was 3.75 inches, and the 327 was 4.0 inches."
1958: Rebel, Ambassador, and Classic
The big news for 1958, at least according to AMC at 1957 car shows, was the new
Bendix Electrojector electronic fuel injection system
, a design which was quite similar to modern systems. When confronted with Chevrolet's mechanical fuel injection option, set at $484, an AMC spokesman said theirs would cost less; but high costs and poor reliability led AMC to drop plans to use the system, and it ended up at Chrysler, which replaced nearly every unit with conventional carburetors. The design of the system was excellent; but electronic components of the day were not up to underhood duty. Bosch would end up buying the rights to the system and successfully launching it, many years later.
All lines were now badged Ramblers, with the historic Hudson and Nash names in the dustbin. The original 100-inch wheelbase Nash Rambler was brought back with modern styling and 195.6 cid six, and named the Rambler American (100" wheelbase). The Rebel V8 (108"), Rambler 6 (108"), and Ambassador (117") were restyled as well with quad headlights, toothy chrome grilles, and pointy tailfins.
Frank Swygert wrote: The Rambler V-8 was renamed Rebel and received its own series number (20). It was produced through 1960. The only V-8 Ramblers from 1961-mid 1963 were Ambassadors. The 1958 American was a reintroduction of the 1955 Nash Rambler, the only time an old model has been successfully reintroduced. It had a reintroduced L-head 195.6 of 90 hp; the engine, too, had been dropped with the 55 Nash Rambler, being converted to overhead valaves for 1956. The L-head shared the same lower block, crank, rods, and timing components (except grind of cam) as the 195.6 overhead valve engine. There was no bolt-on conversion because the right side of the block was changed. The 125 hp OHV was optional in the American.
James K. Sims wrote: We owned a 1958 Rambler Ambassador Country Club. I understand that there were only about 1200 made.
It was a four-door hardtop with all power accessories, spare tire on the continental kit, and a pushbutton automatic transmission. It had 900-15 tires and would spin them on command.
I pumped it up to almost 120 mph (it had no problem jumping up there). It continually had power window failures, but otherwise, I remember it being a dependable vehicle.
1959 brought cosmetic changes only (the Metropolitan continued without any styling changes).
1960: Next Generation Rambler
The next generation of Rambler arrived, featuring cleaner styling and increased interior room. The Rebel was deleted after 1960, but was still available for one final year with the V8. American and Classic were available only with the 195.6 cid six, with single-barrel carb or optional two-barrel Power Pak. Ambassador was powered by the 327 cid V-8. Metropolitan importing stopped, but their stock lasted through the 1962 model year, making the late-model Mets very collectible today. (Gerald Henry disagreed: "[the] last Metropolitan for the North American market was E-95981 and it was built on April 19, 1961.")
AMC's Brampton plant opened in December 1960. It would be used until 1994, when it was sold to Wal-Mart and used as a warehouse.
1961
Though mechanically unchanged, the curvy American was completely restyled to become the "breadbox" American, with a linear shape and attractive grille. Ambassador receives a memorable, European-looking front end.
This was the first year of the Rambler Classic, sold as a six or V8.
1962
The slanted petite tailfins on Classic and Ambassador were eliminated for a rounded back end, much like MoPars of the same period.
The Rambler Classic came as a six only, as the Ambassador was shrunk to the 108" wheelbase, and shared the Classic's front end clip.
1963
The entire Rambler line was named Motor Trend Car of the Year for their unitized construction, (a Nash tradition), modern engines, and value. Classic and Ambassador were completely redesigned with chic, clean styling and the unforgettable "Pac Man" grille. The V-8 was available again in the Classic, and a new 287 cid version was introduced.
A 287 V-8 was introduced for the Classic line due to dealer demands for a V-8 option late in the 63 model year. It was used only in the Classic, with the 327 still reserved for use in the Ambassador only.
1964
The Rambler American got its first redesign, with neat, trim lines, tunneled headlights, and a plain horizontal bar grille.
The Ambassador and Classic were sold in two-door hardtop form, the first AMC full-sized two-door hardtops since the 1957 Nash Ambassador Country Club and Hudson Hornet Hollywood.
A special edition of the Classic two-door hardtop, in Solar Yellow with a black roof, was the first AMC to be powered by the "Typhoon" 232 cid six. This block spawned the "Great 258" 4.2l and the Jeep "Power-Tech Six" 4.0l, which was used through 2006.
The 4.0 liter engine was still highly competitive when it was retired.
1965
Ambassador was lengthened and given a V-shaped front end with stacked headlights. Classic was restyled as well.
Midway through the model year, a new midsize sport fastback was introduced on the Classic chassis. Named Marlin, it was, in reality if not by intent, a luxury alternative to the Mustang and Barracuda fastbacks.
AMC also launched the Rebel, a two-door coupe derivative of the Classic, with an optional four-barrel 327 V-8 four speed and dual exhaust.
The new 199 and 232 sixes were three to four inches longer than the old 195.6. There wasn't enough room between the grille and radiator in a 1965 American with the 232 for a condenser, so air conditioning was not available with the larger engine.
"AMC-Rambler Man" wrote: "AMC was apprehensive of Chrysler's designs to produce a fastback turbine-powered intermediate sized car (the original plan for the Charger). AMC's 1965 Rambler Marlin, with many styling cues of the Chrysler Norseman, also challenged Chevy's Malibu and El Camino, though the pickup truck image was not AMC's intention. Hence, Rambler Classic/Marlin vs Chevrolet Chevelle/Malibu.

Most of the styling cues of the Rambler Classic/Marlin and the Chevrolet Chevelle/Malibu are similar, except the Marlin got tapered sailpanels to have a fastback profile. Surely AMC wanted to beat Chrysler to make the first intermediate sized fastback. The 1965 Classic/Marlin featured an optional "Twin Stick" 3+2 overdrive manual transmisson for a functional five speed. (The four speed/no overdrive was an option by popular demand for 1966.) A stick-mounted button provided the overdrive kickdown, giving the driver complete manual control. AMC only had dual exhaust on one torque tube car, the 1957 Rambler Rebel; the 1966 Rebel featured a different roofline than the Classic, two door hardtop only."

1966
The Rambler American was restyled to wear the face that is now the most widely recognized. The rest of the lineup had minor cosmetic changes. This was the last year that Ramblers utilized the "torque tube" drive system; conventional driveshafts would be employed from 1967 on. Marlin was no longer a Rambler, but its own model.
Frank Swygert added that a Rambler American redesign for 1966 added around three inches in front of the radiator support so air conditioning could be used with the bigger six; with the redesign, the 195.6 was dropped.
1967
The Classic was discontinued and replaced by a
new
AMC Rebel. Rebel, Marlin and the new, larger Ambassador wore sleek "Coke bottle" styling that was the fad at the time. A newly designed V-8 engine was also introduced in 200-hp, 290 cid and 280-hp, 343 cid versions.
A sporty Rogue version of the American was added, available with the 232 six or 290 V8 engines. The American Motors script was now the marque that the new Marlin and Ambassador wore. American and Rebel were the only Ramblers left. Ambassador and Rebel could be ordered in upscale DPL and sporty SST trim levels.
The Classic name was retired with the 1966 models. All series 10 (mid size) models were called Rebel through 1970, after which that name was retired in favor of Matador beginning in 1971. (Frank Swygert)
1968: Javelin, AMX
Arrived at last! The beautifully styled, legendary
Javelin sports car
rumbled onto showroom floors. It was originally available with the 232, 290, or 343. It entered SCCA Trans-Am competition and finished every race it entered, a record that none of the other factory teams were able to achieve.
Craig Breedlove, legendary racer, piloted the 2-seat
Javelin derivative AMX
to 100 land speed records before it was even introduced for sale. When the AMX finally was available, it shook the sports car world to its knees. The AMX was available with leather seats, 140 mph speedo, A/C or "tic-tac" gauge package, hi-po "go pak," 4 bbl 290 or the new 315 hp 390 V-8.
This was the last year any convertibles were available from American Motors. American was the only model that still wore the Rambler nameplate. All AMCs except American adopted their trademark flush-mounted paddle door handles.
1969
Ambassador grew again, now with a 122-inch wheelbase. It had graceful, swoopy lines and a distinctive "guppy mouth" grille. Most models were now available with any engine including 232, 290, 343, and 390. Javelin SST and AMX now came in optional eye-catching Big Bad colors: BBOrange, BBGreen, and BBBlue.
Hurst was now coordinating with AMC, helping to create the dragstrip terror SS/AMX and the ram-air 390-powered Hurst SC/Rambler. The American "Scrambler" or "Super Car/Rambler" wore two different red/white/blue paint schemes, had r/w/b headrests, a Sun tach strapped to the steering column, and the T10 4-speed with Hurst linkage, and rear torque links from the AMX. The hood and mailbox-type air scoop were painted "AIR , 390," with an arrow into the air duct. The only option was an AM radio. Only 1512 were built, most employed to massacre the competition on the strip. Two were equipped with 4WD and ran in the Baja 500. One took first place in its class. By 1970, Mark Donohue and the Sunoco Racing Team had dumped their Camaros to race Javelins.
AMXs, Javelins and Americans had the dealer "Group 19" heavy-duty performance option. The V-8's heads were refined to make it good for 340 hp and 430ft/lb torque. This was the last year that there would be any new Ramblers in North America; the name did not reappear in 1970, though it was used in
Australia
and
South Africa
until AMC pulled out of those markets in the 1970s.
George Barris had an ongoing deal with AMC to produce a bolt-on customizing kit, sold by AMC dealers, for the AMX. Using his AMC contacts he got a new 1969 AMX and used it to create the AMX-400, which included a 4.5 inch lower top, revised pillars, an extended nose and tail, hidden headlights, and numerous other changes. The full width tail light lit up green during acceleration, amber when coasting, and, of course, red when braking. Each side of the car got a race-style gas cap - and each was fake; the real gas cap was, as with the standard AMX, under the license plate. The interior and engine were stock. The car toured the country and was filmed in TV's Banacek in 1972; it is now privately owned.
1970: Gremlins
On April 1, the first American subcompact since the Nash Metropolitan, the
AMC Gremlin
, was introduced. It had the 199 as the base engine, with the 232 six optional. The Gremlin's six-cylinder power was unusual for subcompacts, and resulted in proportions similar to the British "shooting brakes," with a long hood and short-looking cabin.
AMX and Javelin received a mild styling update, and added an optional "Power Blister" ram air hood that boosted the 390s horsepower to 345.
A special "Mark Donohue Edition" Javelin had all the performance options plus a spoiler designed by Donohue himself. Ambassador and Rebel received updated styling with new quarter panels and taillights.
A special Rebel called "The Machine" was introduced. It had a fiberglass hood scoop with the tach built into the back, 390, dual exhaust, auto or stick, slotted wheels, and plush interior. Though there were various colors available, most Machines were white with reflective r/w/b stripes. The 343 V-8 was increased to 360ci, and the 290 became the 304.
The compact Hornet made its debut in 2 or 4-door sedan models.
AMC officially adopted the "A-mark" logo and discontinued the "AM" script. AMX/3 was a hot concept project utilizing a hand-made Italian fiberglass body and mid-mounted 390. Seven were built. A very-rare Hurst version of the Jeepster Commando was made in white with red and blue T stripes and hood scoop, again with built-in tach.
1971: Matador, new Javelin
Javelin was re-engineered and was longer, on a longer wheelbase, and wider; numerous cosmetic changes were made, and the AMX was dropped, with the name switching to the top trim line of the Javelin. For more details see
Chrysler - AMC 1971
, which has diagrams, details, and specifications.
| | | | | | | |
| --- | --- | --- | --- | --- | --- | --- |
| Javelin | 1970 | 1971 | | Javelin | 1970 | 1971 |
| Wheelbase | 109 | 110 | | Headroom F/R | 37.5 / 36.0 | 37.5 / 35.6 |
| Length | 191 | 192 | | Leg room F/R | 43/30.8 | 42.5/30.8 |
| Width | 71.9 | 75.2 | | Shoulder room, F/R | 55 / 53 | 55 / 53 |
| Height | 52 | 51 | | Trunk volume | 10.2 cu ft | 10.2 cu ft |
| Overhang F/R | 41.5/40.5 | 42.2/39.5 | | Turning circle | 36.3 ft | 36.3 ft |
With a new grille, Rebel became Matador, and the Machine package continued, without the scoop. The beefed-up 390 from 1970 was bored to 401ci, and was rated at 330 hp.
The 2-door Hornet had an optional SC/360 package with hood scoop, special upholstery and wheels, and a stripe that ran along the fender and door tops and around the rear window.
The 2-seat AMX departed; the Javelin was redesigned with hump fenders, increased size, and an optional cowl induction hood, along with a "cockpit" feel and many upholstery options. SST trim continued, and AMX was the top-of-the-line, complete with a unique dash appliqué and styled grille.
Hornet had up to 360ci optional, and sporty "X" and "Rallye" packages that could be combined to make it one competitive compact. Also new was the Hornet "Sportabout" wagon with 57cu. ft. of cargo room. Javelin was the champion of SCCA Trans-Am racing, while Wally Booth's Gremlin X tore up the drag strips.
Mike Sealey wrote: 1971 was the last year for the Borg-Warner "Shift-Command" automatic, which was replaced by Chrysler's Torqueflite ("Torque-Command") automatic. Some late production 1971 rental cars got the Torqueflite a little bit ahead of the general market; police departments and other fleet buyers might have gotten a similar jump.
1972: Gladiator
Gremlin
was also available in 1971 with the X package - but now had the potent 304 V-8 as an option, putting more meaning behind the trim.
All lines disposed of the old Borg Warner auto (which dated back to the 1950s) and took on the B-W T10 4-speed with the Chrysler 727 "Torque Command" 3-speed auto or, for six cylinder engines, the 904 TorqueFlite (some 304s may have received 998 transmissions).
Javelin again killed the competition in Trans-Am. So much for Firebird and Mustang!
Mike Sealey wrote: AMC police packages start turning up with many police departments, the largest buyer initially being the Los Angeles County Sheriff's Office, followed by LAPD the following year. Usually the police used Matador 4 door sedans with 401 engines. I have also seen Matador wagons with the police package. Detectives with the Modesto, CA police department used unmarked Ambassador sedans with the police package, while uniformed officers continued using black-and-white 440 Dodge Polaras. [This may explain why so many period TV shows featured Matadors - they were filmed near Los Angeles, and the props people used what they saw.]
The Chrysler-built Torque-Command replaced the Borg-Warner Flash-o-Matic that was based on the Borg-Warner built Ford-o-Matic/Merc-o-Matic of 1951. Studebaker also used the Ford-o-Matic derivative from 1957 to 1966, and called it Flightomatic. The Studebaker automatic of 1950-1956 was shipped overseas to Great Britain, where it was used in Jaguars, Austins, etc.
American Motors introduced a Sportabout sedan/wagon with an interior designed by Dr. Aldo Gucci, of Italy, and a Javelin sport coupe with a Parisian flavor by Pierre Cardin.
1973
The Hornet Hatchback was named the "Styling Coupe of '73" by
Car & Driver
. Hornet and Gremlin now had an optional Levi's interior package, with copper buttons, jean door pockets, and red tabs. Sportabout wagons got an optional plush red and green Adolfo Gucci interior, and Javelins got an optional Pierre Cardin interior package featuring silky black seats with white, purple and red stripes flowing across them, up the door panels and around the headliner. Levi's sent out a press release that noted, "Gremlin sets another mark as the first U.S. subcompact to offer fashion interiors for the small-car market," adding that in addition to the denim look, copper rivets were used as buttons in seat backs and cushions, and snap off cargo pouches were included.
A Javelin option was the "Trans-Am Victory" package to celebrate their back-to-back SCCA championships, after only five years of racing. Javelin also received new pod taillights, Hornet got a friendlier veed front end. Largely as a result of the small cars' lucky timing, AMC leaped up to 4.2% market share, well above the 3.3% of the prior year.
1974
It would be the last year for the Javelin, which still offered a 401.
The 2-door Matador was replaced by the flamboyant Matador Coupe. It had an extremely long hood, deeply tunneled headlamps, bulbous curves, and four round taillights. It was a sight indeed.
Car & Driver
wrote that "It is, unquestionably, this year's style leader.... You can consider that newly acquired self-assured look a tangible warning to Detroit and the world that AMC is no longer bound by the threat of financial oblivion."
Ordered with the 401 X package, the Matador could beat any new sport sedan. The styling, under Dick Teague's leadership, was intended to help Donohue, Bobby Allison and the other AMC racers get more aerodynamic advantage on the track, which it did. It was the only all-new American midsize car, and had an optional interior styled by Oleg Cassini. The Matador Coupe kept its styling unique from the four door and wagon versions, and used an automatic sold by Chrysler - the TorqueFlite - with a Ford carburetor and GM Saginaw steering. (
Car & Driver
wrote that the car had higher than usual wind noise and ride harshness, but with superior braking.) Acceleration with the 401 was brisk, with a 16.3 second quarter mile time recorded by
Car & Driver
(a tad slower than Monte Carlo S but quicker by far than Cutlass); braking was far superior (184 feet from 70 mph) to Monte Carlo S, Cutlass, and Gran Torino Sport. Gas mileage was commensurately low, at 9-12 mpg (C&D figures). (0-60 was recorded at a swift 8.3 seconds and 0-100 at 23.9). At $3,000 - $4,523 as tested - the car was cheaper than its GM and Ford equivalents.
Matador and Ambassador 4-door and wagon got a controversial front end restyling that some called the "coffin nose" or "Jimmy Durante Snout." These were best known as late 1970s police cruisers, and were used in the "Police Academy" movies. The police 401 had heavy duty components and was brutally powerful. It was the Ambassador's last year.
B. Rabbit added: "The
Bricklin
sports car (1974-1976) used many AMC parts, mainly undercarriage, and [the 1974s had] the AMC 360 with four barrel. Due to availability problems, the 360 was replaced in later cars. The 360 cars are more desired by Brickophiles, because their performance is far superior." Alan Morton noted that the 1975-1976 models of the Canadian car are sometimes preferred because "they fixed a few of the design flaws and had better build quality."
Bill Cawthon noted that the first Bricklin concept used a slant six.
1975: Pacer
The car that best defined the "AMC Philosophy of Difference" made its debut: the Pacer rode a 100-inch wheelbase but measured 80" across. It was designed by placing four people in seats and designing the car around them to best accommodate their comfort and safety. The body was refined in a wind tunnel to give it superior aerodynamics. The passenger door was 4" longer than the driver's to let back seat passengers in more easily. The dash was beautiful and ergonomically designed.
"JavelinAMX" wrote,
The design process was attributed to Richard Teague during the development of the AMC Pacer. The Pacer's final shape and size was determined only after the interior accommodations were known ... they first sat four real people (of real size) in automobile seats then scribed the outline of the interior space and measured the results. Then Teague applied his new-style sedan concepts to that. Those concepts were organic and roundish with line flow instead of boxed-out shapes. They did seek a lower drag coefficient and they improved on those of other brands' products. Later on, designs of other sedans and coupes from other companies bettered what the Pacer accomplished.
Though originally designed to use the Wankel Rotary engine, General Motors did not supply the engines, and AMC had to substitute the 232, with the 258 optional. Sales almost doubled expectations the first year, even though the car was not designed for the engines it received.
The rest of the lineup got cosmetic changes, and the 401 V-8 was no longer available in passenger cars (it remained for select Jeeps).
1976
The "Honcho" package was available on pickups, and gave them more sport appeal.
AMC's heavy division, AM General was busy filling orders for transit buses, M915 military trucks, and postal jeeps.
The Matador Coupe got a luxurious "Barcelona" package with velour seats.
AMC introduced the 1976 AMC Pacer fleet version; it was 77 inches wide, wider than the Vega, Maverick, Datsun B210, or Chevelle. AMC boasted of its value to fleets, from an oversized passenger door to make entry and exit from the back seat easier; the low beltline for visibility; the 30 cubic feet of cargo space (with the rear seat folded down); and the extra stability and interior space that came from the width. Gas mileage was estimated at 20 city, 31 highway, with the optional straight-six and manual transmission with overdrive. Fleet buyers got a 12 year, 12,000 month warranty covering all items other than tires, whether the parts were defective or wore out from normal use. By comparison, Chrysler Corporation fleet buyers had to change maintenance items like filters and wiper blades, but got unlimited mileage (except for police, taxi, and limousine service).
Chris wrote: "In 1979, the Spirit was not available with power windows, and the 5 speed was not used until 1982. Also, the kammback body style was available from the onset of the Spirit line."
Rick Shahovskoy wrote: "I had a 1976 Pacer 4-speed with the 258-6. I loved it except when it came to changing #1 spark plug behind the A/C compressor.
Aerodynamically, it was fantastic. I had a large GM car just about blown off the road as I came up I-91 one evening as it followed me. I felt absolutely nothing except the nearly wild whipping of the radio antenna.
"As for the statement about the motor choices, however, wasn't the first pick from Curtiss-Wright who held the patents but they couldn't get the manufacturing going? And then GM fiddled and diddled with the V6 - which was an obvious choice and would have been a perfect fit- but that fell through resulting in the unbreakable AMC units finally going in?
"
1977
Pacer sales were slumping, but were boosted somewhat by a new wagon model that increased cargo room and reduced the "raindrop in overalls" look.
Road & Track
took one for a test drive and was unimpressed with the cornering and feel; 0-60 came in 13.7 seconds with the 2.0 liter engine and four-speed manual, with a quarter mile run taking 19.8 seconds (71.5 mph). Stopping distance from 60 mph was a respectable 176 feet; lateral acceleration was just .653 g. They recorded gas mileage of 17.5 mpg. The Pacer Wagon cost $3,800 base, and was $5,788 as tested; curb weight was a surprisingly high 3,435 pounds.
With sales low in 1976, Gremlin were given a new, classy looking slanted front end, and for the first time had a 4-cylinder option from Volkswagen - the same 2-liter engine as the Pacer and Porsche 924, built in the United States by AMC, with Volkswagen buying engines from AMC. The redesigned front end cut nearly four inches from the overall length of the car, while a redesigned rear increased the glass area by 23%, with a lower liftover height. The V8 was no longer available, and the smallest six-cylinder was the 232, with an optional 258. With a price cut to $2,995, Gremlin was the cheapest American-made car in the U.S.
While Porsche shared the engine with AMC, the Porsche version was somewhat different, with a forged crank (cast on AMC), and electronic fuel injection boosting power to 95 hp and 109 lb-ft; AMC's carbureted version only got 80 hp and 105 lb-ft, with a two-barrel carb and 4-branch aluminum intake manifold. At launch, there was no electronic ignition. The EPA rated the Gremlin at 23 city and 34 highway, and normal drivers could expect to get far lower mileage.
Road & Track
took the 2-liter four-speed manual Gremlin from 0-60 in a leisurely 15.7 seconds, with a 20.6 second quarter mile time (ending at a mere 67.5 mph); the engine was crippled by the car's 3,095 pound weight (as tested; nominal curb weight was 2,745 lb).
The Hornet Hatchback was dolled up as the new AMX, with 258 or 304, stainless "targa" roof band, wheel flares, and color-keyed rear window louvres. All Jeeps got power disc brakes.
1978: Concord
With major refinements to suspension, trim, body and interior, the Hornet was transformed into the Concord. Though well-appointed in base trim, the Concord could be ordered with all the goodies, including an optional "Silver Anniversary Package" to commemorate 25 years of AMC. The 2-door sedan was brought back and led the assortment of Concord body styles. AMX hatchback became a Concord also, and had new stripes. To boost Gremlin sales, the rear was restyled with a larger window, and a fancied up GT package was offered with rally wheels, graphics, and fender flares. Though given a new "Barcelona II" package, Matador coupe, sedan, and wagon were gone before the end of the model year. The 232 engine was dropped from production. Pacer got a taller grille, 304 V-8 option, and luxurious "Limited" package.
1979: Spirit
With a new grille, quad square headlights and a clever restyling of the back end, the Gremlin became the new Spirit liftback. It could be ordered as a $3999 economy car. Spirit also had a "Limited" package that included power windows and locks and leather buckets, and an AMX package with fender flares, graphics, front and rear spoilers, turbocast wheels, suspension package, full gauges, 5-speed, sport wheel, and a 258 or 304. With the V-8, it was a class Mustang GT killer. Along with a wraparound taillight treatment, Concord and Eagle would receive the new front end as well by 1980. The GM "Iron Duke" 2.5 replaced the Volkswagen 2.0 four and was used in economy model CJs as well as Spirit and Concord. The Spirit no longer was available with the V8.
1980: AMC Eagle, Renault Fuego and LeCar
Pacer was dropped part way through the model year. To aid the unhealthy financial situation, Renault purchased 25% of AMC and began selling their 18i sedan, Fuego sports car, and LeCar mini at AMC dealers. Renault struck a similar deal with VAM autos of Mexico, which used many AMC products in creating its own. The V-8 option was deleted from all vehicles, leaving the 2.5 four and 4.2 six as the only engine choices.
AMC Eagle dawns
Though Subaru claims to have the "first sport utility wagon," the
AMC Eagle
pre-dated it by 17 years. It employed the revolutionary
New Process Gear
NP119 transfer case that transferred power to the wheels with the most traction via a 42-disc viscous coupling transfer case; it had full time four wheel drive, dubbed Quadra-Trac (a name first used in 1973 for a different system).
See our AMC Eagle page
1981: Kammback, Hummer, Sundancer
The Gremlin bodystyle was resurrected with larger quarter windows and renamed to the AMC Spirit Liftback. The two Spirit body styles were adapted to Eagle 4WD, and became the Eagle SX/4 hatchback and Eagle "Kammback." AMX was no longer available. Griffith made a limited number of Eagle and Concord "Sundancer" convertibles, with fixed targa band, removable T-tops, and droppable canvas rear top.
1982: Renault enters, AM General leaves
Eagles could now be switched from four wheel drive to rear wheel drive with "Select Drive." The GM 2.5 was replaced midway through the year by the new, more powerful AMC 2.5 (150 cid) four which had been under development for some time. The Eagle 2-door sedan and Kammback left production.
Renault was allowed to purchase 49% of AMC stock, and French executives began to infiltrate the AMC board. As Frank Swygert wrote, Renault's cash was needed because Jeep sales plummeted with the 1980s oil crisis. Unfortunately, because Renault was partly owned by the French government, and a foreign company was not allowed to have a major role in defense contractors (at that time), AMC had to sell AM General to complete the deal; LTV bought the defense division, causing problems when, years later, AM General licensed the "Hummer" name and cues, including the "Jeep grille," to General Motors.
One largely forgotten part of AMC history was the use of a computer for the electronic feedback carburetor which could provide mechanics with diagnostic information.
1983: Renault Alliance
Motor Trend again awarded an AMC product the Car of the Year award, though this time it was for the Renault Alliance, a well-equipped car that got 37 mpg in city driving; it was designed using mostly AMC funds. This would be the last year for the heavy Concord, Spirit, and Eagle SX/4 compact cars.
1984: Eagle
The only true AMC
car
left was the Eagle, in four-door sedan and wagon bodystyles; it was joined by a little sister to the Alliance, the Renault Encore, late in the year. The Encore was basically the same as the Alliance, with the trunk replaced by an odd, French-looking hatch window. In 1985, a Renault turbo-diesel was available for Cherokee and Wagoneer.
1986: contract production
Stagnant production lines in the Kenosha plant were put to use building the Diplomat, Fifth Avenue, and Gran Fury under contract for Chrysler.
1987: Alliance GTA and Hatchback; Medallions; Chrysler buys AMC
The Encore was rebadged as Alliance Hatchback, and a new hi-po version of the Alliance was offered, called GTA. It was very peppy and available in 2-door sedan and convertible bodystyles.
A new Renault, which was heavily based on the 18i and derivative Sportwagon, came across the border midyear. The first Medallions, full of options, sold well. About that time, Lee Iacoca was making an under-the-table deal with Renault to purchase their stake in AMC. At the beginning of August, the deal was finalized, and 2% more was purchased on the open market to give Chrysler controlling interest in AMC. The payments totaled $1.1 billion in all.
1988: Premier, end of AMC
Renault Premier was introduced in late '87. It too, fit a hungry market niche of larger, well-appointed FWD cars. They, and '88 Medallions (made in France), were rebadged "
Eagle
." AMC Eagle was trimmed to the wagon bodystyle only. Less than 2500 were built.
The Kenosha, Wisconsin assembly plant, which had been manufacturing cars since the first Rambler in 1897, was torn down in 1990. The spirit of AMC lives on, though, as many AMC employees were absorbed by Chrysler. Former-AMC engineers, stylists, and other personnel are helping to create the incredible MoPar machines of today. Indeed, some would say that the AMC engineers and managers rescued Chrysler from an egocentric, bureaucratic culture.
Note: Nick McIntosh wrote that there is a rumor that the 1988 Eagle was packed with previously optional equipment to use up inventories. He provided evidence to the contrary.
Evan Boberg
wrote: "At the time of the merger in 1987...Engineering departments were reorganized into an AMC fashion. Internally, it was said to be patterned after Honda. After the first few years, it looked as if AMC had taken over Chrysler...the merger with AMC brought Chrysler back to life...many of the AMC brain trust had been former Chrysler employees..." He also noted, in his book
Common Sense Not Required
, that the Jeep design for the Grand Cherokee dominated over a Dakota-based SUV that would later become the Durango; and that the Intrepid resembled the Eagle Premier more than any current Chrysler. Another former engineer said that the Neon design team was made up mainly of former AMC people, and replaced a Chrysler team and its K-based design. Again, this includes many former Chrysler employees!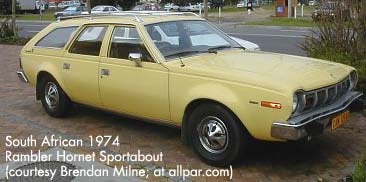 AMC cars ended up being sold as
Eagles
for around ten years.
For more, see our
1987-1989 Jeep page
.
AMC squad cars (from Curtis Redgap)
AMC did make a short foray into the police car market. One of the biggest customers was the Los Angeles Police Department, several Southern California agencies, and the Los Angeles Sheriff.
The first purchase for LAPD came in 1972. Most car companies were in the stranglehold of the EPA and V-8 power was down. AMC used a 401 cubic inch V-8 that blew MoPar and everything else out of the water for that size sedan. It reached 60 mph in 7 seconds flat! Top speed, while not a blazing requirement for the LAPD, was about 125 miles an hour - reached in 43 seconds. This was faster than the 1970 Plymouth Satellites that were so well liked by the officers. It easily beat the 1971 Satellite models that were down on power, and heavier than the 1970 models.
AMC equipped the cars right, with all the goodies that Chrysler had. Since AMC had made arrangements in the late 1960s to purchase Chrysler Torqueflite for their automatic transmission, it was virtually assured of little trouble in that area.
The Matador was purchased by the LAPD again in 1973 and 1974. They were the biggest users. A change in the body style for 1974 added weight, affecting cornering and acceleration, and the reliability was not as good as the previous two years. No Matadors were purchased after this.
AMC UK information (from David Hayward, UK):
As a matter of interest, AMCs were sold in the UK by Rambler Motors, then American Motors, though until the Javelins and AM Gremlins [which were also converted to RHD here] were badged as 'Ramblers'. However, the Rambler name was dropped in the UK before AMI ceased assembly of their 1976 Matadors, which must lay claim to the last use of the Rambler name worldwide? Matadors were still being sold here in 1977, though North American-sourced. AMCs were imported from the USA, Canada, and also from their Belgian assembly plant in LHD form. Renault ran the Belgian plant, which exported throughout Continental Europe and of course in the end they owned AMC outright, before selling-up to Chryslers as before. All these companies were thus intertwined in the UK, just as in Australia.
AMC / Rambler Australia information (from Graeme Roberts)
Ramblers were assembled in New Zealand until the 1970s by Campbell Motor Industries in Thames (later Toyota New Zealand) in a versatile little CKD operation that regularly built Toyota, Datsun, Renault and Peugeot as well as Hino, Isuzu, Simca, and other models from time to time. We had Classics, Rebel 6s and V8s and the Matador up till about 1975. I suspect the kits came from or via Canada as there was a preferential duty rate for Commonwealth makers (GM's oddly-specced RHD Laurentian/Parisienne and Impala also came from Canada until 1968). The right-hand-drive Ramblers didn't get updated interiors as often as the left-hand-drive US versions (as was the case with the GM cars) but exteriors changed with the US updates.
Afterwards
1999: Daimler-Benz, AG purchases Chrysler at a bargain price.
2000: Plymouth follows AMC, Hudson, and Nash into the dustbin of great automotive names.
2003: The 2.5 liter four finally leaves.
2004: Last year for the last AMC engine - the 4.0 liter six - still used as the Grand Cherokee's base engine and the Wrangler's optional powerplant.
2007: Daimler sells the remains of Chrysler, terribly downsized, to Cerberus, a private equity firm.
2009: Chrysler declares bankruptcy; its assets are purchased by a new company funded by the U.S. and Canadian governments, and the thread of AMC continues, now under the control of Fiat.
AMC vs Chrysler
Chris Theodore said:
AMC / Nash El Segundo Plant
AMC Engines • Vin Decoding
AMC Eagle • AMC Gremlin • AMX • Jeepshttps://www.allpar.com/model/cj/index.html Willys and Kaiser Jeep Engines of Brazil

AMC turned out to be a great culture - even though I didn't think it was going to - it was a lot of fun. It was a prototype for platform teams [at Chrysler] because it was all about pulling together to survive. This scrappy little company was trying to reinvent itself. People had a lot of responsibility and they had to deliver. Teamwork was imperative. You couldn't be fighting with each other.

Chrysler, like I said, when we got the platform teams rolling with everyone working together under Lutz and Castaing, was like Camelot.
AMC contributions to Chrysler include not only Francois Castaing, but also the Director of Small Car Operations, who was responsible for the PT Cruiser. Many of the Neon and LH engineers were also ex-AMC.
Credits
Chad Quella supplied many press photos. Many additions were provided by Frank Swygert of
American Motors Cars
and by
Mike Sealey
, Yellow Cab 9033, San Francisco.
​
Home
•
Engines
•
Reviews
•
Chrysler 1904-2018
•
Upcoming
•
Trucks
•
Cars
Spread the word
via <!--
Tweet
or-->
Facebook
!
We make no guarantees regarding validity or accuracy of information, predictions, or advice - .
Copyright © VerticalScope Inc. All rights reserved. Dodge, Jeep, Chrysler, Ram, and Mopar are trademarks of Fiat Chrysler Automobiles.