Creating the Plymouth, Dodge, and Chrysler Minivan:
The Caravan/Voyager Development Story
by David Zatz
Launched in 1983,
the 1984 Dodge Caravan and Plymouth Voyager
were the result of over a decade of work. The minivans had been rejected at least once, and even after they were approved, were put on hold - in favor of the Y-body Imperial.
The idea had risen back when Chrysler had a 45% market share in
full-sized vans
, thanks to car-like conveniences; designers and planners both thought a smaller van could lure families from station wagons.
Director of Product Planning Burton Bouwkamp
wrote in a 1998 letter to
Automotive News
(which both parties gave us permission to reprint):
In the early and mid-1970s, our Advance Design, Advance Engineering, and Advance Product Planning offices designed first generation versions of the minivan. The program was to design a station wagon type vehicle that was not derived from another vehicle (from a passenger car sedan or a commercial van).

The first generation designs were rear wheel drive because we did not have front wheel drive engines

or transmissions. Product planners, designers, and

engineers were enthusiastic about the mini-van (which we called a

"garageable van"), but were unable to get management approval to go

forward with a unique product which had a special tooling bill, not including facilities, of over $100 million.

The first designs

never went beyond the clay model, advanced design and seating buck

stage - but the interest in the concept in the Design and Product

Planning offices at Chrysler continued.

The "bean counter" management didn't approve the minivan in the early 1970s because GM and Ford didn't have one. Top management's contention was that, if there was a market, GM and Ford would be building one. Management was, without articulating it, deciding that our product strategy was to get 15% of market segments established by GM and Ford. As Director of Product Planning for seven years, that was a painful realization to me; that's why I lobbied to get out of the job in 1975 when a Director level product job opened up in Europe.

The second generation design, in the late 1970s, was essentially the

production design, and was done by Chrysler Design Office personnel

under the capable and enthusiastic direction of Hal Sperlich.

By then

we had

front wheel drive Omni/Horizon cars

under way, so the mini-van

design became front wheel drive, which allowed significant improvements in the package dimensions. Hal Sperlich contributed greatly to the success of the program with

his enthusiastic involvement, aesthetic input, and overall guidance of

the program.

When Lee saw our minivan work, he said "let's do it." Bill McGagh (Assistant Treasurer) told him that we didn't have the money to do a minivan; Lee told him to "get the blankety-blank money," then replaced Bill with a new Treasurer. Lee Iacocca gets credit for his support and the "guts"

decision to go ahead with a now even-more-expensive FWD product at a

time when the Corporation was having trouble paying its bills and

maintaining product competitiveness in existing market segments.

Hal Sperlich and Lee Iacocca should get credit for the

final (front wheel drive) design execution and the decision to go ahead with production of

the mini-van program at Chrysler - but not the idea.
Another Chrysler alumnus wrote that the minivan idea may have dated back into the 1950s, with the Volkswagen Omnibus - "though it had vicious handling in its early form and barely enough power to reach 70 mph, it demonstrated how a smaller van could reach the hearts of families." There were many smaller vans sold in other nations, as well, including passenger versions of Japanese small delivery wagons.
"In the early 1970s, just after the 'shocks,' some engineers in the Advance Design Group of Dodge Truck Engineering (DTE) began to look at trucks and vans with higher fuel economy, smaller size, and lower weight. Because DTE was small and closely knit, the group soon expanded to include Gordon Cherry (marketing), Glen Gardner (product planning), and stylists." Top management was, he agreed, concerned about the size of the investments and stealing sales from existing vans and wagons, so they never got past an advanced layout, a seating buck, and a 3/8 clay model.
Burt Bouwkamp wrote:
I was Director of Product Planning from 1968 to 1975 when we (Owen Keeler and Gene Jacoby and I) planned the mini van concept in Advance Product Planning and Advance Styling. We made a clay model and a full size seating buck.

We called it a "garageable van" because we didn't think we could sell a second car to families if the vehicle couldn't be stored in the garage. We did market research on the concept, and it was favorable, but we could not get Lynn Townsend or John Riccardo to buy it. Their contention was that if there was a market for a vehicle like the garageable van that GM and Ford would already have one. (In fairness to them we barely had enough money to field products that were competitive with products that GM and Ford had.)
Dodge Truck product planning manager (and future
LH car project
leader) Glenn Gardner was given the job of turning the "Super Wagon" concept into
a real vehicle. Full-size clay models and engineering studies were created by
around 100 designers from a variety of Chrysler organizations.
Customers
rejected aerodynamic extremes and disliked the way vans had engines in the cabin. Both Ford and Dodge came up with the same conclusions from market research: the cabin height would have to be relatively low, it would need to fit in a standard garage, and the engine needed to be in a "nose" ahead of the driver to provide crush space in a crash. Both companies also foresaw demand of up to 800,000 minivans per year - but, at Ford, Lee Iacocca and Hal Sperlich couldn't sell the idea any more than Chrysler's people could.
After Lee Iacocca and Hal Sperlich moved to Chrysler, they became aware of the efforts at DTE, which now included Bruce Benedict and stylists including Bob Hubbach. Engineers Leo Walsh and "Ace" Ligan developed a new set of objectives and design concepts; when planner Chuck Gunderson issued a program description on 12/16/1977, it included the familiar minivan goals...
Fit in a standard garage
Car-like ride, handling, noise, vibration, and harshness levels
Low, flat floor for easy entry and loading
Removable seats and ability to carry a 4x8 plywood sheet, flat
Front wheel drive was seen as ideal, RWD staying on as an "investigate" alternative to save money; the launch year was set for 1982, with 215,000 sales. There were practically no components at Chrysler for front wheel drive cars, though; the
K cars
were being developed, and while the
Horizon
was being developed in Europe, it was too small and there was no engine powerful yet small enough (the
slant six
was too large).
Chris Theodore wrote
: One day I got bored and decided to design a new vehicle - by that time Hal Sperlich had come over and we were working on the K car - so I went back on the drafting board and I started drawing up a minivan. And it was funny at the time.
The union came over after a while and said they loved me, but "You can't draft." I said, "Can I do a tape drawing?" They said yes. So, of course, I did a tape drawing of a minivan based on K-car components.
I went back and I drew it all up on the K-car components and showed it to my boss's boss, and he didn't like it. The guy's name was "Lefty" Carlstad. I showed it to the chief engineer of Dodge Truck at the time and he pulled a cigar out of his mouth and said "that's not a truck!" and he threw me out of his office. So we went back and worked on some other stuff.
About a year later, the chief body engineer, Leo Walsh, called me up and said "Chris, remember that minivan you were doing? Yeah. Show it to me again." Now Hal Sperlich was asking about minivans because he had been trying to get one done at Ford.
It's not like I invented the minivan. I was just an excited young kid. I went running down there and took the tape drawing with me, showed it to him, unrolled it. He looked at it and said, "Oh, yeah, I remember that. Thanks, Chris," and rolled it up and didn't say anything else.
Research conducted in 1978 (clinics in Atlanta, Denver, and San Diego) showed that customers needs included parking in the garage, interior
space (at least four feet high, five feet wide, and ten feet long) with a
side door opening of at least 30 inches, 48 inches between wheel wells for
plywood, the ability to seat three people across, a flat
floor, the ability to walk from one end of the van to the other, and
removable seats. Participants usually felt the concept was ugly, but demand would be high among families and retirees wanting a travel vehicle - and the demand estimate was increased to one million per year.
An engineer wrote,
The driveline was not so simple. This debate had raged for over a year. The Chrysler K-car FWD 4-cylinder 2.2 was thought to be inadequate; finally, the Mitsubishi 2.6 was identified, for optional use with automatic transmission, as an interim solution until a larger V-6 came on line. The wisdom of the FWD decision was reinforced in 1980, when the corporation confirmed its direction as, "all FWD."

Using the K-car engines and transmissions and a FWD suspension loosely based on the K-car resolved some critical investment issues. Now code-named the "T-115" (Chrysler used sequential numbers prefixed with "A" for Highland Park Central Engineering and "T" for DTE; this was the 115th project coded at Truck since the system started), it was full speed ahead to develop detail cost and investment numbers and a final program timing schedule for approval.

About this time two other accidents of fate occurred. First, as part of the effort to save cost, DTE and Highland Park Central Engineering were merged. Young but experienced managers and engineers from a culture of close cooperation with manufacturing at DTE joined the Central Engineering group; and DTE projects received the benefits of the high tech development tools at Highland Park. Second, Lee Iacocca was fired by Ford and joined Chrysler in November 1978.

In late 1979, at a program review meeting, Gordon Cherry - now a top planning executive and committed to the T-115 - made the presentation to Lee. The research data was questioned, other senior staff pressured for a compact pickup truck, and no one could suggest a way to find the $700 million to fund the project. Glenn Gardner remembered that after the meeting, he and Cherry went out for a few drinks, "totally defeated." However, Sperlich would not let it drop and "took another run at Lee" using the research. This turned the tide, and Lee, at first carefully, later enthusiastically, joined the troop of T-115 supporters.

... As the loan guarantees were processed, Lee Iacocca inserted an extra $500 million, ostensibly as part of the K-car costs. Lee never allowed anyone to request a "rollup" of minivan costs separately from the K-cars, so it appeared that the minivan was just part of the already-approved K-car program.

Folding truck engineering into "Highland Park" assured car-like qualities in the minivan, since it was now to be engineered by passenger car people - not truck engineers as at GM and Ford.
The sliding door was used because people felt it was safer when dealing with children. It
would not blow closed, provided access room, and was
less likely to trap fingers. Two sliding doors were originally proposed, according to Burton Bouwkamp:
When I was Director of Body Engineering, I repeatedly recommended that we built the first mini-vans with an opening left rear door. I guess I made a pest of myself because Hal Sperlich (my boss) took me aside and told me privately not to bring up that proposal again.

In Product Planning we always envisioned the T-115 to be a "people mover" with four side doors and a hatch. (The right side only sliding door on the 1984 model was to be sure that the mini-van appealed to commercial customers.) Hal didn't want to build the vans with both three and four door versions because of the increased manufacturing complexity; and it would have increased the tooling bill. Money was a problem at that time. The Finance Office (Bill McGagh) told Lee Iacocca that we couldn't afford the mini-van [at all]. Lee told Bill to "find the G--- D--- money - that's your job!" [The whole project was to cost $700 million.]
... the K-Body and T-115 minivan were different platforms. They did have a common East-West FWD powertrain, but their body structures were different. To have common platforms the front wheel position, base of windshield - cowl height - and driver's "H" point must be identical.
Later, Burt Boukwamp elaborated:
I was Director of Body Engineering from 1979 to 1983, when we designed the production version of the T-115. During this time I tried to get Hal to approve four swinging passenger doors. I said that we always planned on the van being a four door passenger vehicle.

Hal said that we were going to do a right hand only sliding door to appeal to the commercial market. (Commercial vans have built in racks/shelves on the left side so they don't want a left side rear door.) I said, "Then let's make the left rear door optional."

Hal said "We don't have the money, and don't bring that proposal up again!"

So the T-115 had three side doors and "soccer moms" liked the vehicle! We told dealers and customers that it had only a right hand door so passengers would have to get out curb-side. Years later we added a left rear door - but we never did swinging doors.
One team member wrote, "Door configuration questions were quickly solved by what some remember as a rather arbitrary decision by Sperlich to configure the doors as two conventional front, one sliding right side, and a lift-gate rear."
Most people wanted bucket front seats. Burt Bouwkamp wrote, "One of Owen Keeler's objectives was that the design should facilitate passengers changing seating positions while the vehicle was in motion. When you consider the safety implications, this was not a realistic objective, and we did not merchandize this feature."
The rear opening preference was divided between a one-piece
lift-gate (preferred by sedan owners) and a station-wagon type two-part
gate (preferred by station wagon owners).
The windows were mounted relatively flush, cutting aerodynamic drag and associated noise. Burton Bouwkamp wrote that "when Hal Sperlich (my boss) saw the latest Toyota Tiger (I think?) and Nissan Leopard cars at the Tokyo Auto Show... he decided to move the glass planes outboard on the mini-van by 3/8" to make the side glass more flush with exterior door and quarter sheet metal. That involved a complete redesign of glass drop mechanism and door/window seals as well as exterior sheet metal changes."
A minivan engineer added, "Hal Spurlich directed that the minivan side glass be restyled to be flush with the outside sheet metal. This change, which caused considerable anguish in body engineering, ultimately created a much more modern appearing and longer lasting design."
Ironically, Chrysler was also involved in a minivan project in Europe, with
supplier/specialty automaker Matra
; but Chrysler sold its European holdings to Renault, which released the final product as the highly successful Renault Espace.
Burton Bouwkamp added, "I resolved not to go into production with a less than fully developed product, regardless of pressure. At times, I was unpopular when I told Hal Sperlich (President in 1982-3) that we weren't ready for production. Hal trusted me and supported me even when I did not tell him what he wanted to hear. He then had a bigger problem than I did because he had to tell Lee (Iaccoca)."
Voyager and Caravan shared a surprising number of parts with the Reliant, including interior trim pieces, the instrument panel, and engines. Still, enthusiast magazines at the time talked about how upscale the controls and trim were.
A minivan engineer wrote:
Who invented the minivan? The names of the perceptive engineers in DTE Advance Engineering who identified the need in 1970 are now lost. There were other parents; Hal Sperlich, who came to Chrysler in 1977 and enthusiastically resurrected the project, improved the design, and sold it to Lee Iacocca; Lee Iacocca himself, who made the gutsy decision to proceed and kept the vehicle in the plan over every objection; and Glen Gardner and Gordon Cherry who refused to be defeated as they lead the early project team. All of the engineers, designers, and others at Chrysler who took on a labor of love to create a new type of vehicle - despite the resource shortages, restrictions, schedule changes and time pressure -

and

the workers at the

Windsor assembly plant

who built the best quality vehicle Chrysler had yet produced.
The 1984 Chrysler minivans hit the market
Applauded
by automotive magazines, the "T-115" minivans became a major success
from their debut, with 209,895 sold in 1984. St. Louis soon joined Windsor in devoting three shifts to minivan production.
Major changes through the years included the 1987 introduction of a
Mitsubishi V-6 engine, which coincided with fuel injection on the 2.2; a short-lived 2.5 turbo option; extended-wheelbase versions
(the "Grands,") and the claimed "first luxury minivan," the original Town & Country. The longer wheelbase vans were fourteen
inches longer, and soon accounted for half of minivan sales.
The 2.5
liter engine eventually replaced the troublesome Mitsubishi 2.6; it was basically a 2.2 with a longer stroke and balance shafts, which would be the standard engine until 2000. The 2.5 was replaced by a new 2.4 liter engine based on the Neon's 2.0.
In 1989, the minivans became more sophisticated but far less reliable as the
A-604 electronically controlled four speed automatic
was adopted (fortunately, not across the board). All wheel drive was added in
1991, with the Chrysler-engineered 3.3 liter V6 engine.
Chrysler minivan firsts
Exports to Europe
began in 1988. Since Dodge and Plymouth were not sold in Europe at the time, the Plymouth Voyager minivan was rebadged and modified somewhat to become the Chrysler Voyager.
In 1990, a Chrysler-designed V-6, the
3.3
, was added to the mix.
This strong, durable engine proved to be very popular, and remained in
the mix until (as of this writing in 2010) 2010 (possibly 2011).
Later minivan achievements and milestones
The
first major redesign, in 1991, included major changes to the
suspension and steering, optional antilock brakes, standard
shoulder belts for all passengers, and optional all wheel drive. The
next year, driver airbags were standard, and an integrated child
seat was optional. 1991-1996 minivans.
In 1992, Chrysler minivan production in Austria began, with a diesel
Chrysler Voyager in 1993. That brought Chrysler 23% of the European minivan market in 1994. (After Daimler took over, Mercedes kicked Chrysler out of the Austrian factory, and sales fell; see European Chrysler minivans.)
In 1992, a Dodge Caravan with an airbag earned the best scores ever recorded for a van in U.S. crash tests.

In 1993, the first electric minivan, the TEVan, was sold, mainly to electric utilities; many were sold at public auctions, and some are still in use.
A V6-powered minivan that ran on compressed natural gas was also produced starting in 1993.
1996 brought another major redesign, which greatly increased interior space, comfort, and reliability.
Chrysler's second electric minivan, the EPIC (pictured below) was introduced in July 1997.
The 2001-2007 minivans had more powerful engines and
many improvements, as well as power doors on both sides and in the back.
In 2003, the Grand Caravan was repackaged to form the Chrysler Pacifica, which ran through 2008.
The 2005 long-wheelbase vans brought seats that fold into the
floor
("Stow-n-Go"), a feature so popular that Chrysler started to
record increased minivan sales despite the introduction of new Toyota, Ford, Honda, and Nissan minivans.
The 2008-2010 vans added a new six-speed automatic transmission and 4-liter engines to the top models; in 2009, retuning gave the four-liter engine the highest gas mileage of any minivan sold in 2009-2010, with 17 mpg city, 25 highway. In 2011, the vans were retuned and again improved, inside and out.
The first clean-sheet minivan in many years, the 2017 Chrysler Pacifica, was launched in 2016, with a hybrid version capable of 84 MPGe.
Who invented the minivan?
Chrysler invented the
modern
minivan (as opposed to the compact van) -twice, in two different continents, using entirely different bodies. Richard Moss pointed
out that
Chrysler Europe was working with Matra
on a minivan in the
late 1970s / early 1980s. When it was ready to go into production,
Chrysler sold most of its European operations to Peugeot-Citroen (PSA),
which dumped the fledgling minivan. Matra took the design to Renault,
which modified it to fit the Renault 21 drivetrain...resulting in a
calendar-year 1983 introduction and Europe's most popular minivan. If
Chrysler had held on to Chrysler UK, it may well have had a greater
European foot-hold - but that's another story. The American Plymouth
Voyager and Dodge Caravan were also introduced in 1983, as 1984 models. (
The full story is here!)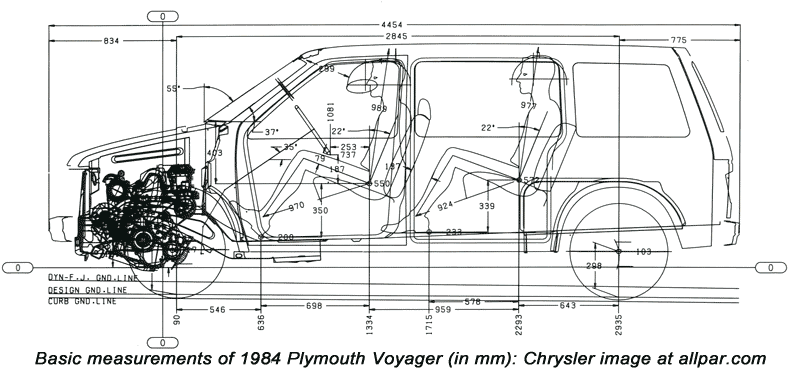 Richard Beck pointed out that the Chevrolet Corvair had a Greenbriar
model, a few came with cargo area
doors on the driver's side. "It is said they had a tendency to break in
half at the midsection because of those two sets of double doors. What
attracted me to the Voyager is the four banger engine with 100 horses
and a five speed. Also it has a tow hitch and roof rack..it's my all-purpose all-sports
car. Hauling a sailboat, or carry a canoe and bicycles, or sleep in it.
I like the power rear vent windows and innovative sliding side door. I
love the lift gate as a porch roof." (There were numerous small vans before the minivan, including the Volkswagen Microbus and
Dodge's own A-vans
.)
Minivan links
Forums
•
2017
•
Test Drives
•
Eurovans
•
CNG •
Electrics
History
•
1984-90
•
1991-95
•
1996-2000
•
2001-07
•
2008-10
•
2011-16
https://www.allpar.com/model/m/first.html
https://www.allpar.com/model/m/minivan-repairs.html
Repairs / performance
•
Engines
•
Firsts
•
Minivans being built
Get the
Haynes Chrysler Minivans 1984-1995 - Repair Manual
for 20% off!
Chrysler Heritage
•
History by Year
•
Chrysler People and Bios
•
Corporate Facts and History
2017 minivans
2011-16
2008-2010
2001-2007
1996-2000
1991-1995
1984-1990
Forums
•
Reviews
•
Electrics
•
CNG
Repairs and performance
•
Engines
•
Firsts
•
Factory
Home
•
Engines
•
Reviews
•
Chrysler 1904-2018
•
Upcoming
•
Trucks
•
Cars
Spread the word
via <!--
Tweet
or-->
Facebook
!
We make no guarantees regarding validity or accuracy of information, predictions, or advice - .
Copyright © VerticalScope Inc. All rights reserved. Dodge, Jeep, Chrysler, Ram, and Mopar are trademarks of Fiat Chrysler Automobiles.